Honeymoon paradise immersed in the countryside, nice-feeling of privacy and exclusiveness although the medieval village of Montecchio, between Orvieto and Todi, is a five minute drive.

New cottage with swimming pool, surrounded by olive trees and oaks, set into the hillsides of the Amerini mountains, 400 metres above sea level, wonderful view of the Tiber valley. Wheatfields, sunflower cultures, canyons, farmland; the landscape still retains the authenticity of traditional Umbria without encroachment of building developments. One mile from the National Park of San Lorenzo, a major Etruscan necropolis of 7th century B.C. of which the artifacts can be seen in the Orvieto Archeological Museum.

The interior of the cottage has been conceived as open space to allow the beauty of the surrounding countryside to be thoroughly enjoyed.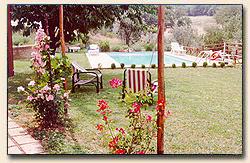 The cottage consists of two living sections each with a bedroom, bathroom and studio.
The two sections flank the central core of the cottage which consists of: a main kitchen, dining and living room with fireplace.
Wallsize sliding doors to each section provide privacy. Each unit opens independently into the portico.
Contemporary designer objects and furniture define the elegant and essential style of cottage complimented by old beams, terracotta ceilings and floors in the tradition of Umbrian architecture.


From the 60 sq m portico one can dine and enjoy stunning sunsets.
The rear garden is ideal for morning breakfasts and lunches and a nearby annexe with a supplementary kitchen.
Ideal for one or two couples. Can sleep 5-6.

Accommodation
Sitting/dining room
Fully equipped kitchen
2 double bedrooms
2 studios
2 bathrooms with shower
Swimming pool - 10x6,145 deep
Swimming pool shower
Second kitchen in the annexe

Facilities
Satellite TV
Washing machine
Dishwasher
Central heating - not included in rental
Easy parking space for 4 or 5 cars
Daily swimming pool maintenance
Maid or cook on request

Amenities
Nearest shops and remarkable restaurants in Montecchio, Orvieto, Todi and Civitella del Lago.
Trekking, jogging, cycling, horse riding (Baschi - 6km), canoing (Lake Corbara - 10km), birdwatching (Lake Alviano - 5km), tennis, Montecchio and Baschi Watersports (Lake Bolsena - 30km), gardening, archeology and hunting in winter.

Airports - Rome - 150km, Florence - 175km, Pisa - 230km and Bolgona - 260km
Mainline station - Orvieto Scalo - 15km, also bus services from Montecchio to Orvieto and back.