Casa Menicaglie. Civitella del Lago

HOME PAGE | CONTACT US | PRICE LIST | BOOKING FORM | BOOKING CONDITIONS
Just below the village of Civitella del Lago amidst olive trees and vines, Casa Menicaglie is situated on a hillside sloping down to Lake Corbara. The views are splendid from the garden across to the lake and the Umbrian hills - the owners "collect" the sunsets over Orvieto.

The house is surrounded by fruit trees of peaches, apricots, apple, plum, fig and dessert grapes, even a tiny nut orchard.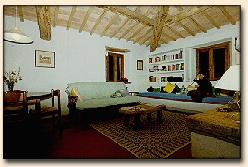 Built on a hillside all three levels can be entered at ground level. It is obvious on entering, the house is the pride and joy of the owners and should be respected and enjoyed.

Main Floor

Sitting room with open fireplace, dining room and kitchen area.
Single bedroom with outside terrace.
Bathroom with bath and shower.

Lower Floor

Study and master bedroom.
Higher floor reached independently with own entrance.
Double bedroom with en-suite shower room.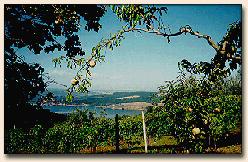 Telephone, video player, radio and cassette player and central heating.

Nearby restaurants range from inexpensive trattorias to Vissani's one of the most famous and highly rated restaurants in Italy.

Approximate distances: horse riding - 5 kms, Civitella del Lago swimming and tennis - 3 kms.

Approximate distances: Assisi - 70 kms, Perugia - 50 kms, Orvieto - 12 kms.

Nearest Airport: Rome.

Sleeps 5 - 6
If this page is displayed directly from a search engine click here for our home page.
Copyright © VTC Italy (2000 - 2008). All rights reserved.